"You and I share a lot of the same interests." And eventually they'd share the title of America's First Couple. Here's the first trailer for Southside With You, the story of the first date — "This is not a date" — of Barack Obama and Michelle Robinson on a summer's day in 1989 Chicago. Suffice it so say, things went well.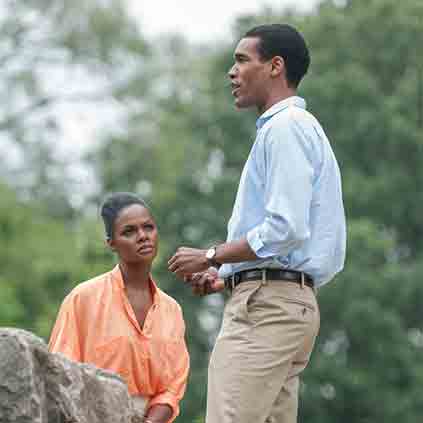 Michelle (Tika Sumpter) initially isn't all that thrilled that her law firm's new summer associate from Harvard (Parker Sawyers) has invited her to a community event. Or is she? They seem to get along, but she's adamant that it's merely a work thing; after all, she's his adviser: "How's it gonna look if I start dating the first cute black guy who walks through the firm's doors? It would be tacky." "You think I'm cute?" "I didn't say that." The long day turns to night and takes them from a museum to the movies for Do the Right Thing to their eventual first kiss — all after driving around in his beaten-up jalopy and grooving to Janet Jackson and Raphael Saadiq.
Richard Tanne wrote and makes his directing debut on the film from John Legend's Get Lifted along with IM Global. It opens August 26 via Miramax and Roadside Attractions. Take a moment away from the daily grind of 2016 politics and check out the trailer.