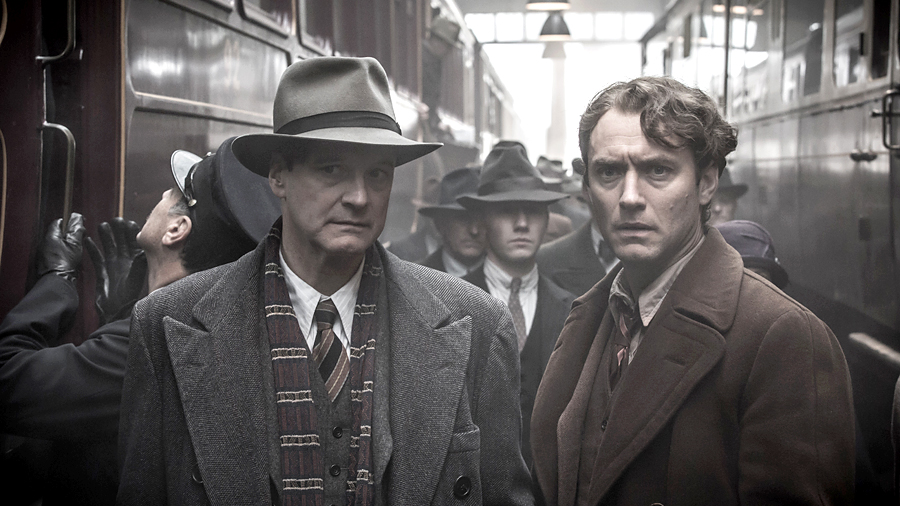 Max Perkins was surrounded by literary geniuses, but he had something to do with that. Perkins was a revered senior editor at Scribner's Sons in the late 1920s, with a stable of writers named Hemingway and Fitzgerald. A sprawling, unwieldy, 1,000-page manuscript from an unknown writer lands on his desk after it's been rejected all around town. But Perkins sees something special beneath the weight of excessive prose and seeks out the author. His name is Thomas Wolfe and the book will become Look Homeward Angel.
In "Genius", which debuts at the Berlin Film Festival on Feb. 16, Colin Firth plays Perkins and Jude Law is the unbridled author. Their relationship would last about 10 years, until Wolfe grew tired of the whispers that Perkins was responsible for the magic of his marvelous books and fired him. In this exclusive scene from the film, their partnership is just beginning, and Perkins counsels Wolfe to cut, cut, and then cut some more. It's a crucial scene, establishing their relationship and Perkins' gift for helping a true literary genius get out of his own way.
"I think [Perkins'] genius was that he had great instinct for what the public wanted and great understanding of what his client wanted to do, and somehow was able to join up the two," says Michael Grandage, directing his first film after multiple Tonys in theater. "Whereas the writer frequently just wrote and wanted it out there, Max very subtly helped them to get the best of themselves before it went out there."
"I think that touches on something about why I was attracted to this movie personally," Grandage continues. "Because what I just described — and I've never seen it in a play, I've never seen it in a film — but it also describes the role of a director, with actors and with the text. Nobody knows what directors do, really — in theater, some people think you move chairs. So I was absolutely beguiled by a film that was ostensibly about an editor and his relationship with talent, and seeing a very interesting correlation between what directors do. It was a way in for me."
Grandage is directing an embarrassment of riches, with Oscar-nominated John Logan (The Aviator) adapting A. Scott Berg's biography of Perkins, and a stellar cast that also includes Nicole Kidman as Aline Bernstein, a costume designer in the midst of a torrid affair with Wolfe, Laura Linney as Max's wife, Guy Pearce as F. Scott Fitzgerald, and Dominic West as Ernest Hemingway.
Genius, which Lionsgate acquired at Cannes last spring, is about more than just the rise and fall of the Perkins/Wolfe collaboration; it's about the complicated tensions and insecurities bubbling within each man. For Perkins, it was the struggle to "improve" a work without stripping it of its genius in the process. Grandage hopes the film will illuminate a significant collaboration that often goes overlooked by readers of classics and beach best-sellers. "Does anybody ever read a book these days and consider that behind the book, there might have been a rather mighty collaboration to get that to the page?" he asks. "I just love the idea that people will watch the film and actually maybe rethink the way they read a book."