UPDATE, Feb 13, 11:49 am PST: Miramax has confirmed the story Deadline broke Friday, that it acquired rights to the Obamas' first-date film "Southside With You" and will release in partnership with Roadside Attractions. I've added the press release below the original story break.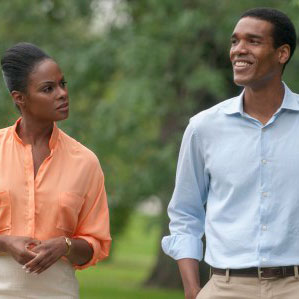 EXCLUSIVE: "Southside With You", the film that chronicles the first date between future U.S. President Barack Obama and future First Lady Michelle LaVaughn Robinson, is near closing with Miramax in a North American rights deal around $2 million. They are finishing the deal in Berlin tonight, sources tell me, and they'll release in partnership with Roadside Attractions. There is also a mid-seven-figure P&A and a substantial screen count that promises a wide release for one of the most popular films to premiere at Sundance, and this makes it one of the bigger deals from that festival.
The hope is to release in the summer, and the expectation is that it will have strong appeal with African-American and art house audiences. Stuart Ford's IM Global is finalizing the deal with WME Global. IM Global financed the film and will sell international rights this week at Berlin, where it screened for offshore buyers today. Miramax and Roadside teamed on the Ian McKellen starrer Mr Holmes, a prestige film hit that grossed nearly $18 million in the U.S.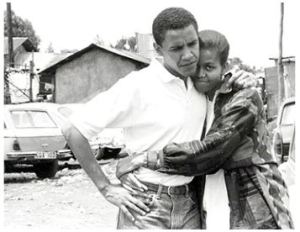 Written by Richard Tanne, who also makes his directorial debut, the film is inspired by the first date of Barack and Michelle Obama in Chicago in 1989. Parker Sawyers (Snowden, Zero Dark Thirty) and Tika Sumpter (Ride Along 2, TV's "The Haves and Have Nots") star as the future President and First Lady. "Southside With You" is produced by Robert Teitel (Men of Honor, the Barbershop franchise), Tika Sumpter, and Richard Tanne. Executive Producers are Stuart Ford, Matt Jackson, Glendon Palmer, John Legend, Mike Jackson, Carrie Holt De Lama, and Tracey Bing. Legend also produced and performs the end title song for the film, "Start."
The film recently made its festival debut at the Sundance Film Festival and drew rave reviews. Variety said, ""Southside With You" stands as something unique, even audacious in American independent movies;" The Hollywood Reporter said the film is "perceptive, intelligent;" and Entertainment Weekly called the film "charming, soulful and sweet."
Miramax's Rosanne Korenberg, SVP Acquisitions & Co-Productions, has led the effort to land the title for MIRAMAX® as the European Film Market/Berlinale officially got underway, with WME Global and Deborah Zipser as General Counsel on behalf of IM Global brokering the deal. IM Global has been in protracted negotiations with U.S. distributors for the past few weeks since "Southside With You"'s successful Sundance debut. Miramax's Zanne Devine, EVP Film & Television, said: "The timelessness of initial romance is beautifully captured in Richard Tanne's tender and poetic directorial debut."
UPDATE, PRESS RELEASE:
MIRAMAX® ACQUIRES '"Southside With You"' FROM IM GLOBAL WILL PARTNER WITH ROADSIDE ATTRACTIONS ON THEATRICAL RELEASE
BERLIN, GERMANY/LOS ANGELES, CA (February 13, 2016) – Following last year's successful release of MR. HOLMES, one of the year's biggest independent films, MIRAMAX® announced today that it will reteam with Roadside Attractions on "Southside With You", for which MIRAMAX® has acquired North American distribution rights from prolific independent entertainment studio IM Global. MIRAMAX® will partner with Roadside Attractions on domestic theatrical distribution, which will likely be set for late summer 2016.
Written by Richard Tanne, who also makes his directorial debut, the film is inspired by the first date of Barack and Michelle Obama in Chicago in 1989. Parker Sawyers (Snowden, Zero Dark Thirty) and Tika Sumpter (Ride Along 2, TV's "The Haves and Have Nots") star as the future President and First Lady. "Southside With You" is produced by Robert Teitel (Men of Honor, the Barbershop franchise), Tika Sumpter, and Richard Tanne. Executive Producers are Stuart Ford, Matt Jackson, Glendon Palmer, John Legend, Mike Jackson, Carrie Holt De Lama, and Tracey Bing. Legend also produced and performs the end title song for the film, "Start."
The film recently made its festival debut at the Sundance Film Festival and drew rave reviews. Variety said, ""Southside With You" stands as something unique, even audacious in American independent movies;" The Hollywood Reporter said the film is "perceptive, intelligent;" and Entertainment Weekly called the film "charming, soulful and sweet."
Miramax's Rosanne Korenberg, SVP Acquisitions & Co-Productions, has led the effort to land the title for MIRAMAX® as the European Film Market/Berlinale officially got underway, with WME Global and Deborah Zipser as General Counsel on behalf of IM Global brokering the deal. IM Global has been in protracted negotiations with U.S. distributors for the past few weeks since "Southside With You"'s successful Sundance debut. Miramax's Zanne Devine, EVP Film & Television, said: "The timelessness of initial romance is beautifully captured in Richard Tanne's tender and poetic directorial debut."