LOVE & MERCY
2014, 2h 1min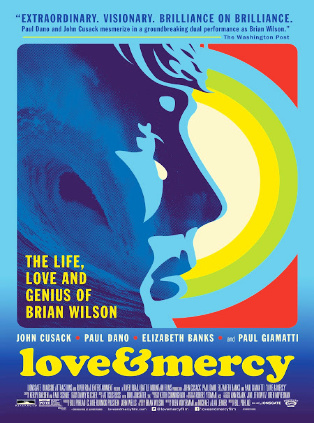 AWARDS AND NOMINATIONS
2 Golden Globe® Nominations
Best Supporting Actor: Paul Dano
Best Original Song, Performed by Brian Wilson
DIRECTOR
Bill Pohlad
SCREENWRITERS
Oren Moverman and Michael Lerner
CAST
Paul Dano, John Cusack, Elizabeth Banks, Paul Giamatti
PRODUCERS
Bill Pohlad, Claire Rudnick Polstein, John Wells
EXECUTIVE PRODUCERS
Jim Lefkowitz, Oren Moverman, Ann Ruark
Synopsis
Love & Mercy is an intimate and unconventional portrait of Brian Wilson, the enigmatic singer, songwriter and co-founder of the Beach Boys. Set against Wilson's groundbreaking, era-defining music, the film examines the personal voyage and ultimate salvation of a cultural icon whose success came at extraordinary personal cost.
Made with the full cooperation of the musician and his wife, Love & Mercy offers a never-before-seen glimpse of Wilson, the boy genius who co-wrote such ebullient pop hits as "Surfer Girl" and "Fun, Fun, Fun" and the game-changing masterpieces "Good Vibrations" and "God Only Knows" before disappearing from the public eye for years. Actors Paul Dano and John Cusack share the role of the troubled musical virtuoso who defined the "California sound" with sumptuous harmonies and visions of endless summers of surf and sand.
Spanning more than three decades of Wilson's life, the film reveals the darker and more complex story that lies beneath the music's sun-kissed surface, including Wilson's battle with mental illness and drug abuse, his years under the influence of therapist Eugene Landy (Paul Giamatti) and his redemptive relationship with Melinda Ledbetter (Elizabeth Banks), all in the context of his unparalleled musicianship.