LOVE & FRIENDSHIP
Release Date: May 13, 2016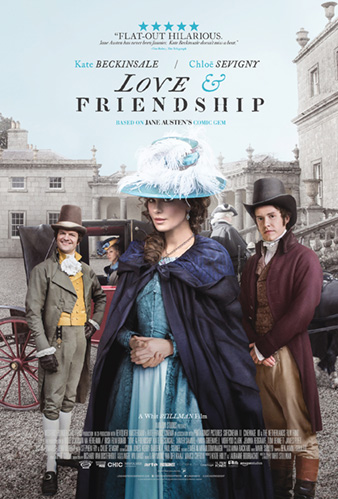 Director
Whit Stillman
Screenwriter
Whit Stillman
Cast
Kate Beckinsale, Xavier Samuel, Morfydd Clark, Emma Greenwell, Tom Bennett, James Fleet, Jemma Redgrave, Justin Edwards, Jenn Murray, with Stephen Fry and Chloë Sevigny
Producers
Katie Holly, Whit Stillman, Lauranne Bourrachot
Production Credits
Westerly Films / Blinder Films / Chic Films / Revolver Amsterdam / Irish Film Board / Arte / Netherlands Film Fund
Synopsis
Beautiful young widow Lady Susan Vernon visits to the estate of her in-laws to wait out the colourful rumors about her dalliances circulating through polite society.
Whilst ensconced there, she decides to secure a husband for herself and a future for her eligible but reluctant daughter, Frederica.
In doing so she attracts the simultaneous attentions of the young, handsome Reginald DeCourcy, the rich and silly Sir James Martin and the divinely handsome, but married, Lord Manwaring, complicating matters severely.