CHI-RAQ
4 December 2015, 127m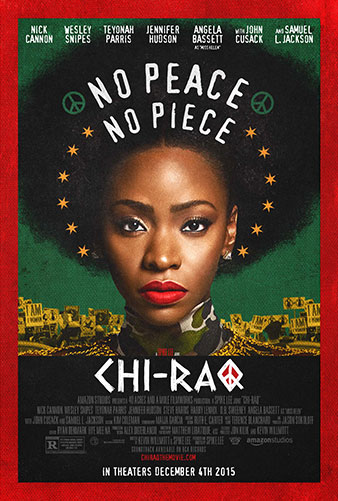 AWARDS AND NOMINATIONS
AAFCA Award
Best Independent Film
Best Actress
Teyonah Parris

Director
Spike Lee
Writers
Spike Lee and Kevin Willmott
Producer
Spike Lee
Executive Producers
Jon Kilik and Kevin Willmott
Cast
Nick Cannon, Wesley Snipes, Teyonah Parris, Jennifer Hudson, Steve Harris, Harry Lennix, D.B. Sweeney, Angela Bassett with John Cusack and Samuel L. Jackson
Synopsis
Beautiful Lysistrata (Teyonah Parris) is in love with aspiring rapper Demetrius "CHI-RAQ" Dupree (Nick Cannon), but she is disturbed by the bloody war between his Spartan gang and the rival Trojans, led by Cyclops (Wesley Snipes). After Trojans set fire to her apartment while she's in bed with Chi-Raq (pronounced Shy-RACK), Lysistrata moves in with her neighbor Miss Helen (Angela Bassett), a book-loving peace activist who lost her daughter years before to a stray bullet.
When Patti, an 11-year-old neighborhood girl, is accidentally killed in a drive-by shooting, her grieving mother Irene (Jennifer Hudson) pleads with anyone who witnessed the crime to come forward. But even after a reward is offered by a local church congregation led by fiery anti-gun violence activist Fr. Mike Corridan (John Cusack), no one is willing to identify the killer.
Shaken by Patti's death and desperate to do something to stop the escalating bloodshed, Lysistrata persuades Spartan and Trojan women to swear off sex with their men until the fighting stops. To draw more attention to their cause, she leads the women in a bold occupation of a local armory, inspiring women across the city—and eventually the world—to join the boycott. As the ultimate battle of the sexes rages on, the city's fate hangs in the balance in this searing satire of gun violence in America.